My Team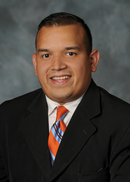 Alfredo Arroyo
Director of Operations and Client Service
Office 847-663-7000

Alfredo Arroyo joined us in 2008. He completed his studies at Robert Morris University with a BA in Business Administration. His vast knowledge of the insurance process has been a great asset and is here to help you with any of your insurance needs. Alfredo oversees our day-to-day operational activities and takes the lead in managing all aspects of the organization's operations.
Alfredo has a high-charged positive energy and takes great pride in providing superior customer service as efficient and effective as possible. 
Alfredo was born in Chicago and currently resides in Chicago. When he's not in the office, he enjoys watching sports, reading newspapers, and traveling the world.
If you have any questions regarding your insurance accounts, please contact Alfredo Arroyo.
Christy O McCreary
Marketing & Client Service Associate
Office 847-663-7175

Christy has worked with us since 2014. She communicates with clients and schedules meetings. It is her pleasure to connect with clients and make sure they experience the care and attention to detail that their planning deserves. Christy has a background in music entertainment and event planning, and a degree in English Literature. She is a singer and published author.
Sarah Ann Rader
Financial Planning Consultant